Gallery Beechcraft F33A / F33C "Bonanza"
In 1978 Rijksluchvaartschool buys seventien factory new Beechcraft F33C "Bonanza" aircraft. This model is aerobatic. In 1981 the school buys another two factory new "Bonanza" aircraft. These two (PH-BNS and PH-BNT) are model F33A and non-aerobatic.
The aircraft have white fuselage, blue/white/red striping, black registration marks and a red RLS logo on the tail.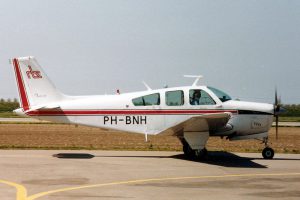 From 1987 te remaining aircraft get a more modern paint scheme with a red/white/blue striping, blue registration marks and the red/white/blue flag on the tail.