Story
Rijksluchtvaartschool
The Rijksluchtvaartschool (National Government Flight Training School) is founded in 1946. The training school starts with a surplus of former military aircraft the Tiger Moth, Texan/Harvard, Junkers JU52/3m and factory-new Beechcraft D18S's.
The training school operates at several locations. The headquarter are in the city of The Hague, the elementary training with the Tiger Moth, Saab 91A Safir and Fokker S-II are at Ypenburg airfield and the advanced training with Texan/Harvard, Junkers and Beechcraft D18S are at Gilze-Rijen.
From 1953 the activities training school are centralized and moved to Eelde airfield (EHGG).
KLM Luchtvaartschool / KLM Flight Academy
In 1991 the training school is privatized and named KLM Luchtvaartschool bv and thereafter KLM Flight Academy (KFA).  In 1999 they move the elementary and advanced part of flight training to Airline Transport Training International (ATTI) at Ryan-Field at Tucson (AZ), USA. The ATTI is taken over by the KFA and named International Airline Pilot Training (IAPT). Five Beechcraft A36AT aircraft are ferried from Eelde to the US to complete the IAPT fleet.  After two years IAPT is closed. Four Beechcraft A36AT's are sold in the USA and one returned to Eelde.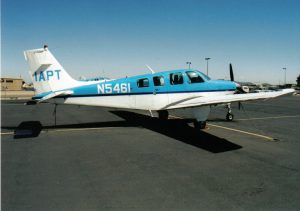 Afterwards training is contracted to Pan Am International Flight Academy at Fort Pierce (FL), USA.  Due to a lot of damaged caused by hurricanes in Florida, the KFA ends it's contract with Pan Am in June 2001 and moves to Arizona for better weather conditions.
The elementary training with Piper Archer and advanced training with Piper Arrow is contrated to Sabena Airline Training Center (SATC) at Scottsdale (AZ), USA. In April 2007 the SATC moves from Scottsdale to nearby Falcon Field airport, Phoenix-Mesa (AZ). This training facility is part of CAE – Oxford Aviation Academy. Because of some flight safety incidents the contract with CAE – Oxford Aviation Academy terminated in 2013.
A new contract is made with Airline Training Center Arizona (ATCA), a Lufthansa Flight Academy department, at Goodyear airport, Phoenix (AZ), USA.  In early 2017 this is re-named Lufthansa Aviation Training USA Inc. In 2018 the KFA leaves the US to centralize all its activities in Eelde.
In 1991 Rijksluchtvaartschool becomes KLM Luchtvaartschool and then KLM Flight Academy
KLM Flight Academy merge with Martinair Flight Academy
In 2018 KFA and Martinair Flight Academy (MFA), both KLM subsidiaries, start merging their capacity to manage the great demand for pilot from KLM. The MFA, based at Lelystad Airport,  has the single-engine program with a fleet of Socata TB-10, Socata TB-20 and the KFA has the multi-engine program with the Beechcraft 58 at its homebase Groningen Airport Eelde. On December 21 2018 the KFA announces MFA at Lelystad will be closed within two years and all activities will be merge at the KFA facility at Eelde. In May 2020 this merge is completed with sixteen training aircraft and a designated maintenance departement. The present fleet consists of 9 x Socata TB-10's, 4x Socata TB-20's and 3x Diamond Aircraft DA-42-NG's.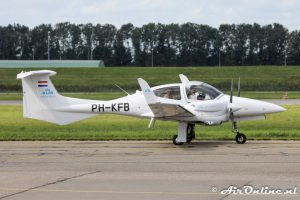 Up until 2021 195 training aircraft have been operating for Rijksluchtvaartschool / KLM Flight Academy.