Gallery Beechcraft D18S
In 1946 Rijksluchtvaartschool buys eight factory new Beechcraft D18S aircraft. These have temporary NL- registration marks (NL-501 / NL-508) insteat of PH-. The aircraft has metal color and black titels and registration mark. Also KLM is flying their international fleet with N- registrations  and registered to Netherlands Government Air Transport (NGAT). In 1947 the registrations are changed into PH-. From 1947 to 1949 the fleet is extensived with six also factory new aircraft. This to complete the fleet after some losses of the crashed like PH-UBS and PH-UBV. A last aircraft is ordered and delivered in 1950.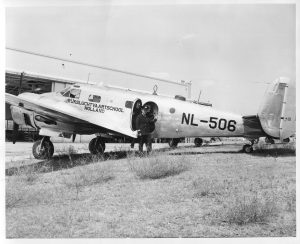 From begin fifties all Beechcraft D18S's get a new paint scheme. Grey fuselage, white top, black titels and dayglo (orange) striping.