Gallery Douglas C47a-1-DK "Dakota"
In 1950 one Douglas C47a "Dakota" is purchased from KLM Airlines. The aircraft operates as a flying instruction cabin. With eight or ten students and an instructor, they get navigation training.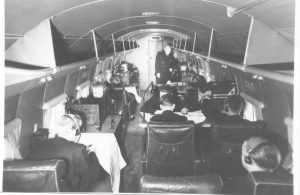 The aircraft has its KLM paint scheme, but the title changes from The Flying Dutchman into Rijksluchtvaartschool. Also the red/white/blue rudder colors are removed and the RLS Holland logo is painted on the tail. After three years the aircraft returns to KLM.