Gallery Junkers JU.52/3m
In 1946 Rijksluchtvaartschool gets four Junkers JU.52/3m aircraft which are taken from a Royal Air Force (RAF) depot at Fühlsbuttel airfield in Germany, where allied forces stores captured German Air Force aircrafts. The ferry flight to the Netherlands is done while the aircraft still have their German dark/grey camouflage paint, but already with white painted RAF serials on the fuselages. One of the aircraft still has a minesweeping system installed.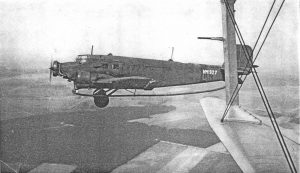 Three of the four Junkers aircraft get complete overhaul with Fokker Aircraft Company and painted  with a base grey paint, black titles and registrations and a red/white/blue rudder.